APPETIZING
ADVENTURES
-
COOKBOOK
Welcome to 24 Hours On where we give ourselves a chance to calm down and reflect on what the hell just happened with Atlanta United. This time around we'll be looking back at what Atlanta did to Herediano when Marietta's Sister City came to Kennesaw and got sent packing.
Find me a soul who thought that Eric Remedi was going to come to Atlanta and consistently take the keys out of everyone's engines and I'll show you the most optimistic person on the planet. Remedi was the end result of #SixWatch after Carlos Carmona went back to Chile and he's been nothing short of spectacular. He's been OK at his his worst and arguably the best in the league at his best. Remedi is still young and there is room for improvement. It can get better. For right now we should settle for his shutdown work because it's going to be needed if Atlanta wants to advance past the next round.
The Brek Shea redemption tour is possibly going to leave a trail of disbelief and chaos in its wake. Shea wasn't brought in to be the starter for this team necessarily but if Thursday was any indication he will make George Bello's quest for the lion's share of starts as difficult as possible. Shea brings such a unique combination of size and skill on the ball. His work rate was impressive and performances like he had against Herediano are frankly not fair when you consider Julian Gressel is chilling out on the other flank. 
The scoreline could have been a lot uglier. Atlanta still hasn't synced up the attack perfectly and when they do we're going to need a separate library for the gifs of buildup play. After 180 minutes of play, however, it's fair to ask if sitting back and letting the Five Stripes dominate possession is the wisest move when they have 2+ players who can beat anyone 1v1 and Josef Martinez who needs roughly three inches of space to finish. 
Darlington Nagbe is like your favorite small running back whose career lasts way longer than you expect because he doesn't take hard hits. He's also due to score a goal that defies physics. 
Ezequiel Barco looks like he has zero fear about being The Man if asked. He ran around like a wild ostrich and worked to make Herediano uncomfortable. It wasn't perfect and his shooting left something to be desired but the teenager is still a big game player who has zero fear of the moment. If you told me he's got a MotM performance in his back pocket against Monterrey I wouldn't bet against it.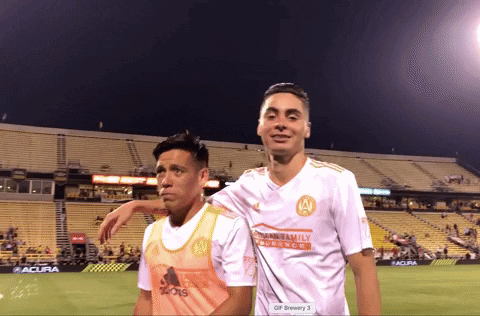 Have you ever stood on the beach and sunk your heels into the wet sand and let them sink deeper and deeper until your shins are buried? That's about where Herediano looked after 10 minutes Thursday night. They didn't have an answer. Their hope was to brace up against a giant stationary Five Stripe boulder and keep it from starting to roll. Once it got started they were not going to be able to stop it without the boulder doing something wrong. 
 
Leandro Gonzalez Pirez is still captain material. He wears his heart on his sleeve and it showed in the first half. He showed a lot by coming out early in the second half and calming the situation down with the official. The current captain showed why he is still the man by helping calm down LGP in that first half, though. Parkhurst is still solid and while some are lamenting his lack of inclusion in the nation team, don't sulk and miss these awesome twilight years for the "undersized" and "unathletic" defender. 
 
Please reload