Soccer Down Here
2021 Atlanta United Awards
by Jarrett Smith Year five is done for Atlanta United and the holidays are behind us. With the compressed schedule ahead, we're running out of time to get these awards in before the next team shows up for training. So let's just go ahead and knock them out and see what the hell happens.
As is tradition, we've kept most of the major awards but with a few new categories this year which I farmed off the Soccer Down Here Discord (which you should be part of, if for no other reason than to watch me reverse jinx the Braves into a World Series title.)
Let's just get this over with.
Best Newcomer
Luiz Araujo
Araujo showed up at the midpoint of the season and slid in under the closing summer window like Indiana Jones sans hat. He proceeded to show a combination of speed, skill and confidence that led to some exciting highlights (including four goals in part of a season) and filling the void of 'impact winger' that fit the mold that people were asking for during the end of 2020 and start of this season.
2022 production remains to be seen but Atlanta United is expected to show up to a knife fight with a rail gun and Araujo will go a long way to providing that balance in the attack that frees up the likes of Marcelino Moreno and Josef Martinez.
I would also accept: Santiago Sosa
Carlos Carmona Underrated Player of the Year
Anton Walkes
In truth I'm still annoyed that Walkes is gone for a measly $50,000 in general allocation money (more on this below) but here we are. Walkes was a rock in the defense for the Five Stripes, logging over 2200 minutes and appearing in 33 games during the 2021 season.
Walkes provided versatility on the backline – capable of playing in a center back role or as a right back if requested – and some consistency while guys like Alan Franco found their way and Miles Robinson was putting Mexican defenders in his back pocket with the national team. Walkes is still just 24 and will have a very reasonable salary number. The outpouring of love has been great to see and while this award has traditionally landed in the lap of a defensive midfielder, I think Walkes fits this bill this year. Fan liked him, but 2020 is a tougher situation without him quietly holding down the fort.
On to the expansion draft: If you're going to have the expansion draft – and we should be due at least a few more – the league needs to look at the way compensation is done. As more teams push the envelope for talent depth, there will be more players left unprotected that are valued higher than $50,000. That sort of compensation might have been sufficient in the past, but times change and this is a topic worth discussing.
I would also accept: Matheus Rossetto
Player We Want to See More From Next Year
George Campbell
Atlanta United has found a nice groove developing center backs that resemble mid 2000s SEC strong safeties. They continued this trend with the skyrocketing emergence of George Campbell. After rocketing through the academy and earning minutes with Atlanta United 2, Campbell started earning more and more minutes with the first team.
Campbell is a big and strong center back comfortable with the ball at his feet and more than willing to get 'stuck in' when the situation calls for it. With the departure of Walkes and Franco Escobar, Campbell will be battling with Alex DeJohn for minutes behind Alan Franco and Miles Robinson. His ceiling is yet to be determined but if Miles Robinson is being eyed from across the Atlantic, Campbell has all of the tools to be a natural successor.
I would also accept: Machop Chol
Breakthrough Performance
Santiago Sosa
This is a weird situation because Sosa carried expectations coming into the season but he hit those marks and despite a lull in the middle of the season where he dealt with injury and the volatility of the coaching staff. In fact, he and Franco Ibarra both showed really well when they were on the field and the midfield signings were really solid, despite the disappointing season.
Sosa was a rock in the midfield and at just 22 years old, there is plenty of room before he hits what might be his ceiling. It certainly doesn't hurt that he gets to spend his 2022 season with Ozzie Alonso, one of the best to do it in MLS. There are plenty of questions about how the Five Stripes line up in 2022 with Gonzalo Pineda getting his first full offseason at the helm, but it certainly feels like a healthy Santiago Sosa will make plenty of noise in a crowded midfield.
I would also accept: Marcelino Moreno (yes he was good last year but he was statistically insane in 2021)
Goal of the Year
Josef Martinez - Decision day in Cincinnati
There are many players who have earned the role of 'Atlanta Hater' across multiple sports. Looking at you, Paul Pierce, Daniel Royer, Cam Newton etc.
Josef Martinez might be a Cincinnati Hater.
In this instance, he hit a ball that might as well have been dropped out of a helicopter as wonderfully as you can hit a ball in that situation and locked up any doubt that Atlanta United would win on decision day. I'm not going to keep explaining it, just look at it.
I would also accept: Marelino Moreno at DC. No one should be able to cut a ball across their body in the far corner the way he did.
Tito Villalba Memorial 'What the Smoking Hell' Goal of the Year
Ezequiel Barco - April 24 vs Chicago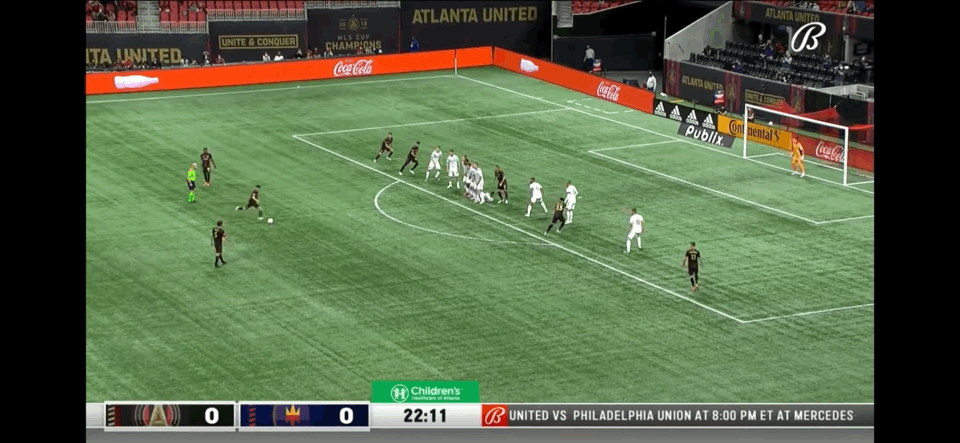 This category is specific for a reason. We're here to separate the great goals from the moments that elicit the most primitive sound possible from the announcers. Barco accomplished this when his free kick hit the wall, and he just decided to 'have a hit' (places dollar in jar) and please just watch it for a while.
I would also accept: Ezequiel Barco's free kick against DC (that game was full of golazos and was a blessing to all viewers)
Best Win
At Columbus
Atlanta United was going through a rut to put it nicely. Even after the club had parted ways with Gabriel Heinze there was a stretch of games where it felt like Atlanta just would not be able to find three points. Finally on August 7, Atlanta United rolled into Columbus and powered by Barco and Marcelino Moreno, Atlanta found three points. They went on to win eight out of the next ten games and shot up the standings, eventually earning a playoff spot. There were a lot of fun wins in that stretch, but finding those three points against an equally desperate Columbus team was a turning point for the club under interim manager Rob Valentino.
I would also accept: 3-0 over Orlando as God intended.
Worst Loss
Vs Philly - CONCACAF Champions League
There are a few you can go to here but for me this was a game of 'what if' that remains a thorn in my side. Atlanta started the game with their hair on fire and easily could have killed off the tie if things had gone their way. Instead, it went to halftime goalless after Andre Blake stood on his head and Philly found three goals while Atlanta lost their heads. The result rendered the return leg a pointless affair and created another year of 'what if' for Atlanta United and CONCACAF Champions League. The Five Stripes will not be taking part in the regional competition in 2022, so we will have to wait another year to see if they can get past the second round.
I would also accept: 3-1 to Chicago because Atlanta is not allowed to go to Chicago and not lay an egg apparently?
Best Shithousery Moment
Cubo Torres - Columbus - August 7
This is it.
This is the moment that all of you fell in love with Cubo Torres and rightfully so. Cubo is a hard worker and is, by all accounts, respected and loved around the club. That said he has not been able to produce the same level that he showed in his younger days. He has still worked hard when called upon, however, and saved his best for when it was needed most as he held off multiple members of the Columbus Crew to kill time and lock up a desperate three points for the Five Stripes. From that day on, many fans recognized and grew to love Cubo for his dark arts at the end of games. As long as Cubo is on this team, he's going to have a foot in this category and if he wins it again next year we get to name it after him. Them's the rules.
I would also accept: Josef almost handing out a two-piece meal to Victor Wanyama.
MVP
Ezequiel Barco
Ah, possibly the most polarizing player in the club's five year history. Barco was good before he went to the Olympics but then he did what he has done before: go play with Argentina and then come back and burn MLS down.
Post-Olympics Barco was a monster that was constantly involved in goals and assists as Atlanta tried to find its footing in the Rob Valentino and Gonzalo Pineda eras. I realize that seven goals and six assists are not ground-breaking numbers but it was his value to the rest of the offense that really cemented him in 2021. Whether Barco is here or not in 2022, it was nice to see him get on an extended run without having his legs nearly broken like we saw in 2019. Keeping Barco upright will be a challenge in MLS just like with other smaller dribblers in the league, but when he's in one piece, Barco was brilliant when his club needed him most.
I would also accept: Marcelino Moreno